Saturday, March 27, 2010
Posted on 11:01 AM by Paolo
"Hot Tub Time Machine" Review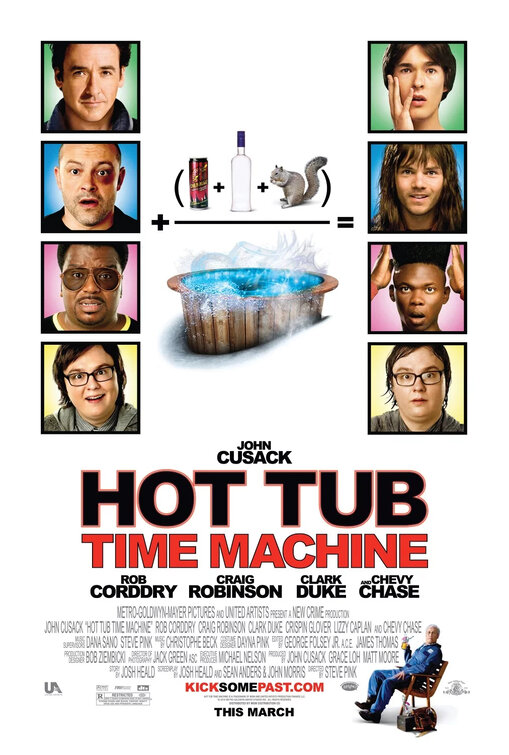 "Hot Tub Time Machine", yes this really is the title, tells the tale of three men in their 40's who try to re-capture their youth. No, that isn't a joke and yes, that is the main plot of the film. The film features an assortment of crude, raunchy, obnoxious, jokes which are nonetheless funny but not a laugh riot. If your fan a fan of this comedy then you will feel absolutely satisfied with your viewing experience. Those of who remember the rockin' 80's will definitely have their own sense of nostalgia, even if the things that make you remember are fairly obvious and expected.
Nick, Lou, and Adam, the three friends who wish to reclaim their youth, are awashed in middle aged madness, haunted by memories of their youthful selves back in the 1980s, the time that they were young and dumb yet so innocent. Adam (John Cusack) has just been dumbed by his live-in girlfriend. Nick (Craig Robinson) has a stable marriage, if you consider his wife is cheating on him stable. He works at the local dog grooming salon, a constant reminder of the music career he could've had but ultimately didn't. And Lou (Rob Corddry) is an alcoholic divorce whose riding the "Crazy Train" towards self destruction. The film doesn't ask you to feel sorry for them, it instead makes you laugh at their own self misery.
The three are joined by Adam's geeky, 20-year-old nephew Jacob (Clark Duke) as they head down to their once favorite hangout spot. A ski resort that holds some vague memories and was once the scene of their own youthful mischief. The place is nothing like it was before, a run down ski lodge which could pass for a Motel 6. After one night of partying, the three end up inside of a-yes, a Hot Tub Time Machine-and wake up back in the year 1986 when the place was filled with bad haircuts, Jerry curls, Miami Vice memorabilia, casset players, and of course neon colors. Even Chevy Chase pops up.
Taking inspiration from classic 80's films, more so "Back to the Future" thany anything else, the film starts the same ol' beginning of last year's hit "The Hangover". Three friends waking up after a night of partying to find themselves in an unpredictable predicament. George McFly and Crispin Glover also pop up for an appearance or two.
John Cusack is, of course, an 80's icon himself. Starring in films like "Say Anything" and "The Sure Thing", but the fact of the matter is that Cusack isn't funny. As an 80's icon playing a character who re-visits the 80's he might be able to create some chuckles but he doesn't have the comedic power that his co-stars like Robinson and Corddry have themselves.
Giving a plot summary would be a waste of time considering the fact that there really isn't a plot. Director Steve PInk, along with a trio of screenwriters (Josh Heald, Sean Anders and John Morris) create absolute madness. The film never stops. Delivering one dirty joke after another, after another, after another. Each scene, or each frame I should say, is filled with more jokes than there should be. Which is something that can really make you question why you just payed money to watch this film. But at times the strategy works, the uncanny madness and barrage of raunchy sex jokes prove to be quite titillating and never cease to pull some kind of expression out of the audience.
After the crazy plot calms down a bit, which it never really does, you start to expect and ending of sorts. Probably the kind where everyone learns a lesson and goes home happy with a new outlook on life. Well the real ending is kind of like that. The problem with the actual ending is that it really is just and ending. Maybe its because the its so utterly imaginative that it never really cements itself in your brain and maybe thats because of the fact that you're still trying to figure out what the hell just happened. Its a big wish that catapults the film into another realm of wishful thinking while at the same time almost ruining your movie going experience.
The movie suggests, well at least this reviewer thought so, that the 80's were filled with heavy metal, spandex, cheesy shows, bad haircuts, hip hop that was somewhat old school, and cocaine and that it wasn't easy growing up. Which is fairly obvious in the facial expressions of Nick, Adam, and Lou's younger selves. They are scared and confused. The movie itself is the latter but it never ceases to bring some form of laughter. It becomes apparent that the three amigos aren't happy now, in the 21st century, but they weren't all that happy in the 80's. I mean after all, its what Cusack said "All we had was Reagan and AIDS."
Labels: Theatrical Reviews